Transitional Justice Club
Transitional Justice Club
The Transitional Justice Club is an academic, issues-based club ratified with the USC. The TJ Club Executive for 2020-2021 is:
The TJ Club hosts a series of informative events throughout the academic year.  Some of the events hosted: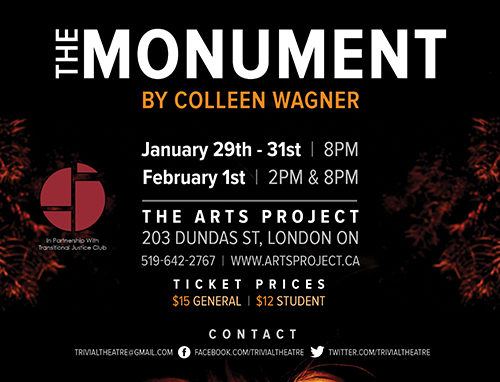 The Monument, a play about a child soldier, in partnership with the TJ Club, January 29 to 31st at 8:00 p.m. and February 1st at 2:00 and 8:00 p.m., The Arts Project, 203 Dundas Street, London, Ontario
---

Syria Panel Discussion, Professors David Hoogenboom, Michael Lynk, Salim Mansur and Nigmendra Narain, Tuesday, November 26, 2013, 5:30 p.m., Stevenson Hall 3345
---
Some events hosted by the TJ Club in previous years:

Middle East Panel Discussion, Professors Tozun Bahcheli, Peter Ferguson and Michael Lynk, April 9, 2013, 4:00 pm, Room 369 University Community Centre
Sarah Burm and Grace Smallboy, Atlohsa representatives speak about the Truth and Reconciliation Commission of Canada, December 6, 2012, 6:00 p.m., University Community Centre Room 373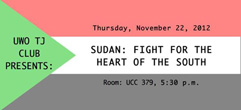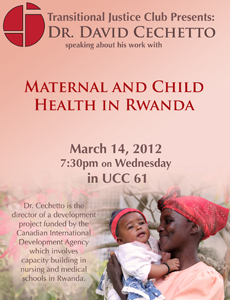 Dr. David Cechetto speaking on "Maternal and Child Health in Rwanda".  March 14, 2012, 7:30 p.m. in University Community Complex Room 61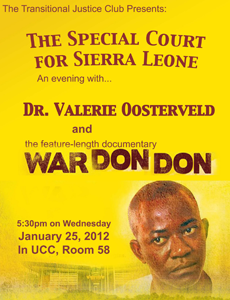 Special Court for Sierra Leone: An evening with Dr. Valerie Oosterveld and the feature length documentary "War DonDon", January 25th, 2012 at 5:30 p.m., University Community Complex Room 58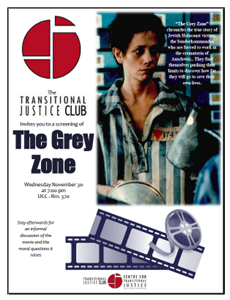 Film Screening "The Grey Zone" November 30, 2011 at 7:00 p.m., University Community Complex Room 370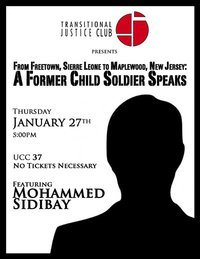 Mohammed Sidibay, Sierre Leone child soldier speaks to TJ Club, January 27, 2011, 5:00 p.m., University Community Centre Room 37
Want to know what we are up to? Like us on Facebook and follow us on Twitter. You can also sign up for the club on the USC website. Finally, you can visit our blog, We can't wait to see you at our events!