About the TJ Centre
The Centre for Transitional Justice and Post-Conflict Reconstruction is one of the eight governing research centres that encompass the Network for Economic and Social Trends (NEST), which brings together the research centres in the Faculty of Social Science.
The Centre for Transitional Justice and Post-Conflict Reconstruction was established in late 2009. It brings together experts from across the Western community whose teaching and research focuses on issues including reconciliation, criminal accountability, post-colonial legacies, legal reconstruction, the environment, human rights, economic justice, healing circles, democratization, and more.

Our aim is to be a world-wide centre of excellence in scholarship on transitional justice and post-conflict reconstruction through collaborative, interdisciplinary and international research amongst faculty, undergraduate, graduate, and professional students and postdoctoral fellows.
Events
Cambridge World History of Genocide, Book Launch
Thursday, November 17, 2022
4:00-5:00 pm, via Zoom 
Panel: Ben Kiernan (Yale, emeritus); Doris Bergen (University of Toronto), Victoria Tin-Bor Hui (Notre Dame), Lindsay Scorgie (Huron), and Tracy Lemos (Huron). 
 
Further details will be provided closer to the date.
---
May 4-6, 2022
The State and Indigenous Governance in Sub-Saharan Africa and North America
Event Poster [PDF]
News
The Centre for Transitional Justice and Post-Conflict Reconstruction at Western University is hosting a virtual workshop on April 19-22, 2022 on Sovereignty, Governance, and Indigenous Peoples: Engaging with Indigenous Political Thought. The workshop is co-organized by Valentin Clavé-Mercier (University of Aberdeen) and Dr. Karolina Werner (Western University) and brings together an international group of Indigenous and non-Indigenous scholars to discuss issues of Indigenous sovereignty, recognition, and self-determination. Papers range from international perspectives to a focus on specific Indigenous nations, all highlighting the importance of engaging with Indigenous political thought, and re-thinking 'modern' political ideas, assumptions and dominant models of political authority, sovereignty, and governance. 
TJ Professors Tapped as "Experts" on ICJ
TJ Professors Ryan Liss (TJ/Law) and the TJ Centre's Associate Director Valerie Oosterveld (TJ/Law) were interviewed for a Western News piece on the role of the International Court of Justice in stopping Putin. Read more
TJ Doctoral Student Chairs Western's Africa Institute Conversation Series
TJ/Law PhD student Loyce Mrewa chaired the Africa Institute's "African Conversation Series" on Gender and Human Rights in Africa on March 8, 2022. 
Oosterveld Argues at International Criminal Court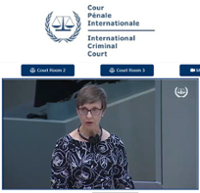 TJ Associate Director Professor Valerie Oosterveld (Law/TJ) served as an amicus at the appeal trial of Dominic Ongwen at the International Criminal Court at The Hague. Amicus advise on matters before the court--in this case, drawing on her long scholarship on gender issues within international criminal justice, including on the concept of gender in international criminal law and the interpretation of sexual and gender-based crimes by international criminal courts and tribunals. Details surrounding the Ongwen case are available on the ICC website.
More about the centre